Tom of Finland 5 Speed Silicone Vibe Review
By Pleasure Panel reviewer Screw Taboo
This Tom of Finland 5 Speed Silicone Vibe is an absolute monster, but I wouldn't expect anything less from a sex toy inspired by the father of hyper-masculine erotic art. Touko Laaksonen, better known by his pseudonym Tom of Finland, is notorious for drawing men with cocks that both make you wince and make you aroused. This vibrator certainly had that effect on me.
I'd be lying if I said Tom of Finland's gay pornographic art doesn't get me hot under the collar, but my appreciation runs much deeper. I love the conspiratorial glances, the glints of greedy lust and the visible pleasure, however the thing I love most is the self-acceptance evident in all of Tom's men. As someone who has struggled to accept their kinks, I find the lack of shame heartening. This pride is something Tom himself talked about:
"In those days, a gay man was made to feel nothing but shame about his feelings and his sexuality. I wanted my drawings to counteract that, to show gay men being happy and positive about who they were. Oh, I didn't sit down to think this all out carefully. But I knew — right from the start — that my men were going to be proud and happy men!"
The artwork on the box and on the collectors print enclosed is not for the faint-hearted, but I don't expect too many faint-hearted souls will be buying a hefty silicone vibrator like this. At 6 inches in circumference, the Tom of Finland 5 Speed Silicone Vibe initially doesn't seem that large, but the ridges make all the difference. This isn't a toy designed for gentle self-love; it's a rough-fucking brute….and I love it!
Pic of the Tom of Finland XXL book from Screw Taboo's personal library
Vaginal use
The body-safe silicone is soft to the touch with a bit of squish but not very much. This means there isn't much give and it provides firm pressure. I am far from a vaginal size queen so this vibe stretched me (literally) beyond my comfort zone. It is 9.5″ long (8″ of insertable length) and has a 6″ circumference. Even lubed to within an inch of its life, the ridges hurt on the way in. This pushed my masochist buttons so expertly I can't help but wonder whether the pleasure/pain sensation was entirely intentional. Once in place, it hit every internal erogenous zone purely by being so large. I didn't even have to thrust, which was lucky because I could only manage tiny thrusts.
The vibrations aren't anything to write home about but they are fit for purpose. The two speeds and three patterns are enough to get me off. To change the setting you click the single button on the bottom of the vibe and to turn it off you either keep clicking through or long press. My vagina is less discerning than my clitoris so I don't mind that they are more buzzy than rumbly. The vibrations reverberated through my pubic bone and spread to my arse and down my thighs. Normally I don't like vibrations that diffuse but there was something almost dominant about the way this vibe took over my body. The combination of the vibrations and stuffed feeling had me soaking in no time. I threw in some small thrusts and manual clitoral stimulation for an orgasm Tom would have been proud of.
Anal use
The first time I tried to use the Tom of Finland 5 Speed Silicone Vibe, my anus clenched up in fear. I had already tried it vaginally so I knew what it was capable of. With a little help from my partner to warm me up and some water-based lube, I eventually managed to take the vibe. I could feel my anus stretch around the vibrator and every ridge gave me a jolt. With my partner controlling the depth and speed of penetration, I felt at his mercy. Too fast, too deep or too soon and he had me screaming. I should point out that this kind of mean dominance is exactly what turns me on, but if you want to ensure the neighbours don't think you are being murdered, take your time and communicate well with your partner to make the experience as comfortable as possible. My partner chose not to use the vibrations on the first anal use and I would say that made it feel much larger and more similar to being penetrated by a large cock.
The second time I used it I was on my own. Being able to control the pace and depth of insertion helped me relax. I was able to insert it with no warm up, although I did have to insert it very slowly and pause regularly to adjust to the size. Once I had it about a third of the way in, I switched on the vibrations. They help me relax more and pretty soon I had inserted about six inches. I was surprised that I found thrusting fairly easy once relaxed. I still had to be careful because of the ridges but I was able to build up momentum and reach orgasm with only the tiniest hint of clitoral stimulation.
Overall
It loses a few points for the buzzy vibrations but I would still heartily recommend the Tom of Finland 5 Speed Silicone Vibe to Tom of Finland fans, size queens and people who like a dash of pain with their pleasure. If you choose to buy this vibrator you also get some feel-good factor because a portion of the sale proceeds go to the Tom of Finland Foundation, which is dedicated to protecting and preserving erotic art.
7/10
– Screw Taboo
---
Thanks to Pleasure Panel reviewer Screw Taboo for this review of the Tom of Finland 5 Speed Silicone Vibe (€59 from MEO.de, which at today's rates equates to approx £50)
The Tom of Finland 5 Speed Silicone Vibe was sent free of charge, in exchange for a fair and honest review by the Pleasure Panel, by MEO.de. Thank you! 🙂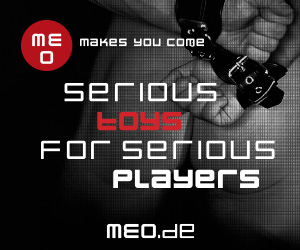 Useful Links
This review does not contain any affiliate links.