Titus Leather Wrist Restraints Review
Review of the Titus Leather Wrist Restraints by Pleasure Panel reviewer BarginHunta
Bold, purposeful but with a softer side…
These Titus Leather Wrist Restraints intrigued us as our other restraints are of the material type fastening with hook & loop, so these felt like a step up, but being marketed as having a softer leather edging to them we hoped they would also be comfortable.
Packaging
The packaging of these Titus Leather Wrist Restraints is very simple to review… there really isn't any. The two restraints are simply clipped together with the included trigger hook and the Titus label attached. The whole package is then wrapped in a large bubble-wrap packet.
Overall a very minimalistic packaging, but in all honesty is perfectly adequate and reduces waste – most people will tend to throw away the packaging anyway; just don't expect to be giving these Titus Leather Wrist Restraints as a 'gift' without providing some extra packaging of your own!
Initial Thoughts
Our first impression of these Titus Leather Wrist Restraints was just how big they are! We have been used to much smaller restraints previously, which are perhaps only the width of the inner strap of these. They are also reasonably heavy and feel very substantial. You can fully believe that once you are strapped into these restraints you won't be going anywhere until you are released!
The red leather trim and stitching is very vibrant, and the deep black compliments it perfectly. This just goes to emphasise the 'powerful' look of these Titus Leather Wrist Restraints.
How They Feel
These feel like a quality item, and the leather is a reasonable thickness and is strong. The various metal studs are not just 'show' items, but are the actual mechanical fixings of the Titus Leather Wrist Restraints holding the various leather sections together, and the stitching is tight and flawless. Overall a strong substantial pair of restraint straps.
If we had one observation to make about the restraints it would be that the Clonezone website describes the leather restraints as follows:
These Wrist cuffs are all 'leather lined' inside with soft garment leather and have a soft rounded and rolled edge that protrudes pass the edge of the stronger latigo belt leather.
Indeed the restraints are lined and this softer leather does wrap around the harder leather which serves to soften the hard edge of the leather, but does not provide what we would describe as a 'soft' cuff at the edges of the restraints; it's more a case that it removes the 'bite' that the raw leather may have had.
One thing to bear in mind is that on the rear surface the backs of metal studs & fixings are quite prominent and can be felt through the soft leather lining. Whether this affects you or not will likely depend largely on your own bone structure and how much flesh you have on your joints.
Fitment
So how do the Titus Leather Wrist Restraints fit?
Fit is always going to be a very personal thing, as everyone is different.
For Her
At first we tried the Titus Leather Wrist Restraints on her wrists:
To fit her wrists we had to tighten the restraints to the smallest setting. However she did not find this particularly comfortable as she found that due to the width of the cuffs this made them tight on her lower forearm area. Loosening the straps by one position made the cuff more comfortable, but also rather pointless as she found she could then slip her hand straight out of it!
Of the two choices she decided that the tighter fitment was the better of the two, but in general she felt that they were simply too big (both in width and fitment) for her wrists.
Next we tried fitting the Titus Leather Wrist Restraints to her ankles, and here the fitment seemed much better suited:
For her ankle the strap was at the penultimate position to the largest setting, but overall her comfort level was much better with the strap in this position. It also did not look 'over-sized' on her ankle, whereas it had on her wrist.
This just goes to show the versatility of these restraints; as much as they are marketed as "wrist restraints" they work equally well on the ankle, and perhaps better for some people depending on your body shape and the strap length.
For Him
On his wrist the Titus Leather Wrist Restraints looked much better, and the fit was much improved in comparison:
On his wrist the restraint was still required to be set to the smallest size (which perhaps gives some indication as to how large they were on her wrists!), but the overall fit was much better, and therefore also more comfortable.
We then tried the Titus Leather Wrist Restraints on his ankle to complete the comparison 'set':
As can be seen, it fitted on his ankle reasonably well too, with another position on the 'belt' to make the strap even looser if required.
In our opinion this shows that these Titus Leather Wrist Restraints could easily be purchased as a set of four if desired and be suited equally well to ankles and wrists giving a great looking four-point restraint set.
D-Rings, Clips, and Connections
The Titus Leather Wrist Restraints themselves come supplied with a single 90mm trigger clip, which is good quality and easy to use to connect the sturdy D-Rings of the restraints together.
However fastening wrists (or ankles) 90mm apart can only lead to so much fun – personally we would recommend purchasing another (additional) trigger clip to go with the restraint set, especially if you already have a harness, or one of the many bed or door restraint systems that also use D-rings for connection. The trigger clips provide a quick, convenient, but secure connection system for connecting the restraints to… well, whatever you may wish!
Summary
In summary, these Titus Leather Wrist Restraints were a little more 'serious' than we had expected, but we were pleasantly surprised. They are very versatile and the quality of everything about them is perfect, from the strength of the leather, to the metal fixings, and even the detailed stitching.
The red leather is bright and vibrant, but does not bleed its colour, and overall they have a scent of quality leather without being overpowering if that is not your thing.
For us personally, the straps were just a bit too heavy duty for her wrists and the edges of the restraints could have been softer or more padded, but as ankle restraints for her, or restraints for him they seemed great. Now to get additional trigger clips and try hooking them up to our existing bed straps…
Overall rating 8/10
– BarginHunta
---
Thanks to Pleasure Panel reviewer BarginHunta for this review of the Titus Leather Wrist Restraints. They cost £49.99 from Clonezone.
Te Titus Leather Wrist Restraints were sent free of charge, in exchange for a fair and honest review by the Pleasure Panel, by Clonezone. Thank you! 🙂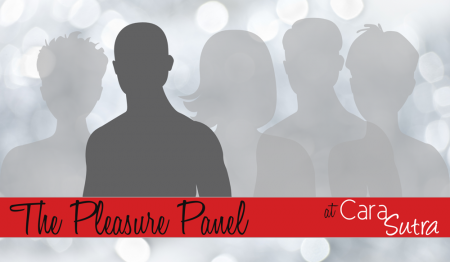 This review does not contain any affiliate links.