I am not sure that these shoes really need a review, once you see the pictures! What else can be said?
As ever, Pleaser have created heels that will grace your feet with sublime sexiness and make you feel absolutely amazing whenever you wear them.
In classic black with red corset style detailing to the back of the heel and under the sole, your feet are highlighted as the sexy feature they are.
As well as the beautiful style of the shoe, the long and shiny 6 inch heel gives that femme fatale attraction, for certain seduction every time!
The sole area has a 2 inch platform, so whether you are a shorty wanting some height or you love having the Amazonian/modelesque stature on nights out, these shoes are the ones for you. I am 5 foot 7 and I find I can wear most heel heights without looking too tall. If there is such a thing.
I have quite a few pairs of the main Pleaser range of heels now (I also adore the Bordello spin off range for a slightly different look) and in the words of my partner, they're definitely 'porn star' shoes.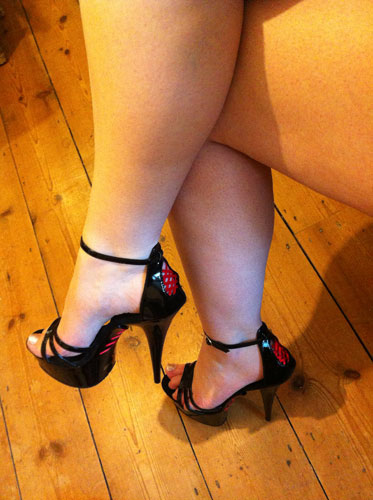 You just can't help but feel sexy while wearing them!
The triple straps that fit across the front area of your feet keep your toes on the base and the delicate looking (but strong) mini-buckle ankle strap is a necessary and pretty feature both keeping you secure and balanced as well as assisting the look of your tapered leg, to draw the eye down to your shoes.
I personally wear these shoes with a sexy short clubbing or cocktail dress, out and about, but you could also team with jeans for a more subtle outfit. Or, just keep them for the bedroom to seduce your lover, perhaps just wearing a corset and a lacy g-string with it!
Those heels are also just begging to be sucked…
In summary: Amazing shoes, supremely sexy and well worth the price. Devastatingly gorgeous heels to add to your collection.
Own your own pair by getting yours from Lovehoney right here (cheapest price), only £44.99 with FREE UK discreet delivery!
Some of my sexy shoes collection: