As I've said in other reviews, bullets are not my thing. I gave the bullet to my husband to use and he loved it for short masturbation sessions, and at the end of his edging sessions. He told me that it was intense and had to keep it moving, but because it was so small (smaller than my pinky) it was a great size for rolling up and down his penis, rather than using just the tip on his more sensitive areas.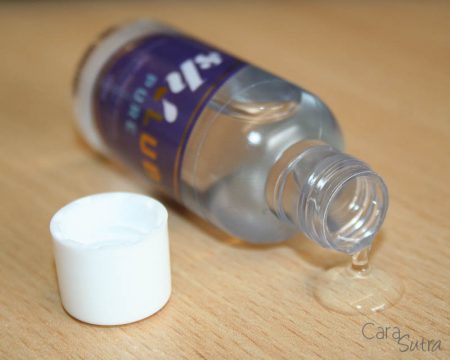 This lube was amazing. I absolutely fell in love with it. It lasts for a long time, does not get tacky and doesn't smell. This lube is great for use with toys, condoms and your fingers. Getting this lube off wasn't an issue either as it was very easy to clean off and didn't stain anything either.
There's no downside to this lube, as I even received a 10% off voucher with the lube and bullet.
Thanks Sh! I'll be buying more of this lube.
Bullet: 8/10, Lube: 10/10
– Lightweight Toucan
Thanks to Pleasure Panel reviewer Lightweight Toucan for this guest review of the Sh! Women's Store Bullet Vibrator (£10) and Sh! Water Based Pure Lube (25ml for £2). You can read more about the Pleasure Panel here, and register/become a sex toy tester for Cara Sutra yourself by joining the discussion thread.