Rocks Off Ruby Glow Vibrator Review
By Pleasure Panel reviewer Just Jess
The Rocks Off Ruby Glow Vibrator has always intrigued me. A ride on, saddle style vibrator for hands free fun that claimed to be strong enough to get you off through your clothes? Hell yes!
But despite being on my wish list for over a year I'd never actually taken the plunge and bought one.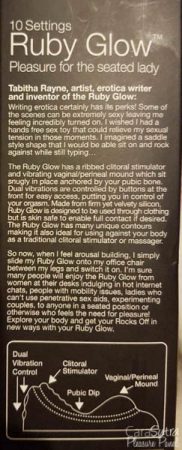 Thank you to Cara Sutra's Pleasure Panel and Bondara for giving me the chance to finally test one myself.
Background
The Rocks Off Ruby Glow Vibrator was designed by erotic author Tabitha Rayne. The hands-free model was intended to be used while seated. Tabitha has explained this was so she could play whilst writing but also the design aimed to help those with disabilities or dexterity issues.
I don't suffer from any mobility issues myself but loved the amount of thought that went into the Ruby Glow's design. Tabitha and Rocks Off have evidently thought about how they could make sex toys and sexual pleasure more accessible which gets a huge thumbs up from me.
Packaging
The box housing the Rocks Off Ruby Glow Vibrator is classy and simple. Black gloss cardboard surrounding a moulded plastic viewing window showing off the Ruby Glow. While this is not exactly discreet, the saddle design is so unusual I doubt many people would know it was a sex toy at first glance.
Aesthetic and materials
The Rocks Off Ruby Glow Vibrator is deep pink, matte silicone coated ABS plastic, both of which are completely body safe.
I love pink toys and the colour of the Ruby Glow is stunning but I wish more manufacturers would branch out into other colours, I'm guessing the name Ruby Glow wouldn't work quite so well on a sea blue.
I found the Ruby Glow's silicone quite draggy so used a dollop of Sliquid Sassy when testing. You should only use water based lube with silicone toys to avoid any surface degradation.
Rocks Off's silicone is a total fluff magnet and as no storage pouch is provided you may need to keep it in the box. This isn't really an option for me as I have a lot of toys and limited space so I've been keeping my Rocks Off Ruby Glow Vibrator in a mesh bag.
The 17cm long and 6cm wide saddle has a ribbed clitoral mound and a second rounded mound designed to sit at the vaginal entrance or against the perineum depending on the length of your bits.
The matte silicone is quite firm but with a slight squish on the vaginal mound and the clit ribs.
Cleaning
Why, oh why Rocks off? The Rocks Off Ruby Glow Vibrator is splashproof. What does that even mean? Surely a toy is waterproof or not?
I hate splash proof toys, I always feel like I must be super careful with them and normally just end up giving them a wipe and spritz with toy cleaner but I much prefer throwing my toys in a sink of hot soapy water.
I assume splash proof means you're ok to wipe with a damp cloth if you are careful to avoid the battery casing but if you're clumsy like me, I'd just stick to toy wipes and cleaner.
Controls, motors and power
The Rocks Off Ruby Glow Vibrator houses two independent motors, one within each of the mounds on the saddle. Each motor has 3 constant vibrations of increasing intensity and 7 patterns.
Two buttons on the clitoral end of Ruby Glow control the two motors. Press and hold the lower to turn on and scroll through the vaginal hump, hold again to switch off. The top button controls the clitoral mound. Because the two motors are independent you need to switch both off to silence the Rocks Off Ruby Glow Vibrator, this can be an issue if you need to turn it off quickly and more than once I've ended up taking the batteries out because I couldn't get it to turn off.
Speaking of batteries, this is not my preference at all for sex toys. I'm yet to find one that matches the strength of a rechargeable vibe and being a bit of a power queen, I was worried that the vibrations would be weak and waspy.
I was gutted to find the Rocks Off Ruby Glow Vibrator was as buzzy as I'd feared especially on the constant settings. The patterns were rumblier but the underlying buzz was still there.
Also the Rocks Off Ruby Glow Vibrator is so loud; even on the constant settings this wasn't masked by low music or my TV and on the patterned settings it was distracting even with headphones in. I was surprised at just how loud it was given the weakness of the vibrations.
In use
Not only can you use the Rocks Off Ruby Glow Vibrator hands free, the product information claims it can even be used through clothes. In one review I read, the blogger had used Ruby Glow through a sanitary towel and still achieved orgasm!
My experience was so different. Even through thin mesh knickers I struggled to get enough stimulation to be aroused let alone orgasm. The only benefit I found was clothing muffled the sound a bit but this was still loud enough to be heard from the next room.
The length of the Rocks Off Ruby Glow Vibrator isn't quite right for my anatomy. If the large mound is against my vagina, the clit ribs are about half an inch away from where I need it to be.
If I try to grind against the clit end it's too firm and stabs into my sweet spot.
With the clit end snuggled in my labia the bump is firmly against the lower end of my perineum but not quite at my anus so sits quite uncomfortably despite the squish.
Overall
I'm a huge fan of clitoral stim and have used rocks off bullets in the past but found their battery operated vibes just a little too buzzy and shallow. I'm gutted that the Rocks Off Ruby Glow Vibrator follows suit – stronger, rechargeable motors and I think Rocks Off could be on to something but as it stands it's just another novelty that doesn't quite hit the spot.
4/10
– Just Jess
---
Where To Buy
Thanks to Pleasure Panel reviewer Just Jess for this review of the Rocks Off Ruby Glow Vibrator.
Buy yours here from Bondara.
This product was sent free of charge, in exchange for a fair and honest review by the Pleasure Panel, by Bondara. Thank you! 🙂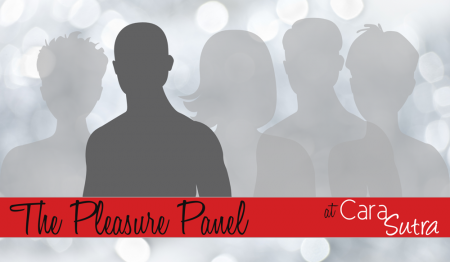 This review contains affiliate links.