Rock Rings Ball Buster Cock Ring Review
By Pleasure Panel reviewer Kerrie Lacey
I was happy to review the Rock Rings Ball Buster Cock Ring as it was in some ways more of a pressie for Mr L than me and he was excited to try it out. Thank you Cara for giving us the opportunity.
Presentation & Packaging
The Rock Rings Ball Buster Cock Ring comes in blue and black cardboard packaging with and is encased in a plastic window. This sort of packaging fills me with dread, as usually there's a fight between the packaging and me with scissors and teeth that results in cuts and bleeding.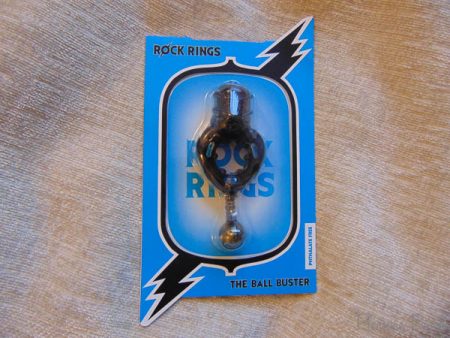 Not this time. It was easy to open, just pulling apart and lifting the plastic to get to the Rock Rings Ball Buster Cock Ring. The packaging remains sticky enough to put The Ball Buster back into it's window and seal it down again for storage.
First Impressions
Well it felt nice, quite squidgy and very stretchy. I have to agree with Cara when she says laid flat it does look like the love child of Darth Vader and The Borg Queen, quite exciting for geeks like us.
Specs
The Rock Rings Ball Buster Cock Ring is black in colour, weighs around 32g (the ball weighs around 12g) is about 4'' (10cm) in length including the vibe and ball.
The interior size of the Rock Rings Ball Buster Cock Ring is about 0.75'' (2.5cm) without any stretch on it and we achieved about 2.5'' (about 6.5cm) when we stretched it but think it would stretch a little more.
The bullet vibe sits in a pocket above the ring. It is single speed and can easily be removed for cleaning and to replace the batteries. Oh, and it takes two LR1130 batteries that are included and are easy to change.
There is a patch of small jelly fingers at the front of vibe that are perfect for clit stimulation. The Ball hangs about 1.5'' (4cm) below the ring.
Trying the ball on our hands, it did feel like it would bang quite hard and provide pleasure when used.
Material
The Rock Rings Ball Buster Cock Ring is made of TPR & ABS plastics that are Polyurethane plastics that give it great elasticity, hence the stretch. It is stated to be Latex and Phthalate free. Also, the packaging says it is waterproof, which is great for cleaning as well as bathroom fun.
Talking of cleaning, the vibe can be removed easily as I have said. It does look like the ball can also be removed through a hole in the plastic cover, although we haven't yet tried, as I'm not 100% sure it would be easy to get back in.
How It Performed
Well as I have said, the Rock Rings Ball Buster Cock Ring is very stretchy. Therefore it was easy to put on a semi-rigid cock without any lube. Mr L says it is comfortable to wear, gripped his cock nicely but he didn't feel it delayed his orgasm in any great way. The Ball Buster did maintain his erection after orgasm, which allowed intercourse to continue for a while after he had cum which was great for me.
He liked the vibe but felt it was a little too fast to give him any strong sensation or add to his orgasm.
We tried the Rock Rings Ball Buster Cock Ring in both Doggy and The Missionary positions.
Orgasmic Ball?
Using it Doggy both of us agreed the ball actually added very little in the way of sensation. To me it just felt like something cold touching me. Mr L said the same agreeing it felt cold but didn't really 'bust' him in any way.
Mr L says the ball thought that maybe the ball wasn't heavy enough to add sensation. Maybe that's why the Rock Rings Ball Buster Cock Ring wasn't better than any other cock ring for him. On the packaging it mentions there being four graduated balls adding weight. Does this mean there are additional balls that can replace the one we had. Are these available to buy separately?
Using it in The Missionary position was a little better for me as I could feel the vibrator on my clit. It didn't bring me to orgasm but it added I guess another element to intercourse.
Using The Rock Rings Ball Buster Cock Ring With A Dildo
For me the Rock Rings Ball Buster Cock Ring worked best when used on a rigid dildo. I love Mr L using a dildo on me and the vibe definitely hit the spot when used this way because he could concentrate the vibe on my clit and tease me to the edge of clitoral orgasm, as well as making me squirt with the dildo.
Conclusion & Score
It's a hard one to rate the Rock Rings Ball Buster Cock Ring, as there were aspects of it we both liked but it didn't achieve what we hoped for, that being added sensation for Mr L. It seemed to work best when used with the dildo. To be fair it could just be our anatomy that means it doesn't do quite what it says 'on the tin'. We are not one size fits all.
Sadly, the Rock Rings Ball Buster Cock Ring is not something we would immediately reach for when we are getting jiggy.
For that reason we would give The Ball Buster 6/10.
– Kerrie Lacey
---
Thanks to Pleasure Panel reviewer Kerrie Lacey for this guest review of the Rock Rings Ball Buster Cock Ring. It's available from Simply Pleasure for £9.95.
You can shop the entire Rock Rings Cock Rings range here at Simply Pleasure.
Useful Links
This review contains affiliate links.