Pjur Med Clean Intimate Cleaning Wipes – Pack of 25 – Review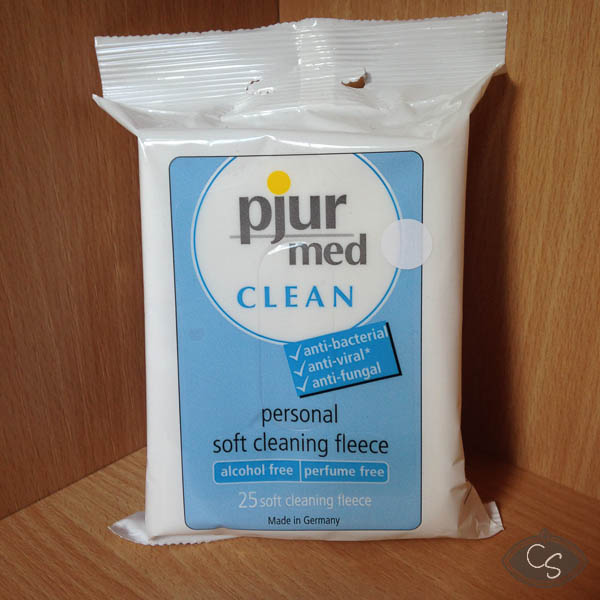 I received these Pjur cleaning wipes as part of the large collection of Pjur products I received to review, from the lovely Elisabeth Dahmen who I met at EroFame in October.
There are 25 wipes in the pack of Pjur Med Clean wipes. They are alcohol and perfume free, therefore suitable for those with sensitive skin as these are highly unlikely to cause adverse reactions.
The wipes dispense much the same as your standard baby wipes, or make up remover wipes, do. Just peel back the sticky strip on top, revealing the opening through which you pull the wipes, one at a time.
These wipes can be used for all your sexual and intimate needs: a quick freshen up before sex, to clean up after sex, to wipe down your sex toys, mop up lube spillages, to cleanse a sticky lube or massage oil bottle… or if you're me, you can mop up coffee spills on the desk with them too. Oopsy.
These wipes are safe to use with materials such as latex, rubber and silicone. The back of the pack states that these wipes "reduce body odor and [have] an effect on bacteria anf fungi." Just what effect they have, it doesn't state, apart from saying that "when cleaning utensils pjur med clean has to a certain extent an anti-viral effect against lipophilic, enveloped viruses."
So it seems to me that they are about as bacterially cleansing as perhaps baby wipes, maybe with an additional layer of anti-viral protection? This could be more clearly stated, perhaps with some medical backup in the form of facts.
That aside, the wipes are easy and enjoyable to use and have certainly come in very useful on my bedside cabinet. They have a on-offensive, clean smell and easily disposed of after use – I would recommend a bin rather than flushing them, just in case. The pack states they are neutral to the taste but I have to disagree; yep I tongued them for you, readers. They taste… sweet! I think it's the sorbitol in the ingredients. Anyway, don't eat them. They're not edible. *spits*
These wipes do what they say on the pack, they clean you up. I would advise using  an additional anti-bacterial sex toy cleaning spray if you want to clean your vibrators, dildos and butt plugs though, just in case. These wipes also don't have the fun factor of the expandable wipes with the Cheeky Wash, but they're still very practical and useful.
Each wipe measures 7.75 inches x 6 inches when laid out flat. They're strong, durable fleece material.
I've been quite generous in my use of the Pjur wipes and I still have over half a pack left, since October, so they've definitely lasted well. A lovely add on purchase when you're grabbing your next bottle of Pjur lubricant.
Ingredients: Aqua, Phenoxyethanol, Cocamidopropyl, Betaine, Chlorhexidine Digluconate, PEG-7 Glyceryl Cocoate, Dimethicone Copolyol, Neohespiridine, Sorbitol.
You can get your pack of 25 Pjur Med Clean wipes here at the Pjur site for €12.95 or find the Pjur Med Clean Wipes here on Amazon UK for £9.97.
– Cara Sutra
Gallery