Are you considering purchasing some lingerie to turn their head this Valentine's Day? Perhaps you'd like to treat her to a lacy number which you can  both enjoy?
iCollection Lingerie at Simply Pleasure has been specially selected with women and couples in mind – providing not only practical lingerie which could be worn through the day to give you a confidence boost but also flattering your figure for guaranteed bedroom seduction.
I was sent two iCollection lingerie sets by Simply Pleasure:
iCollection 4 Piece Floral Lace Crotchless Panty Set Bow Pasties Lace Blind Fold and Wrist Cuffs Set £15.95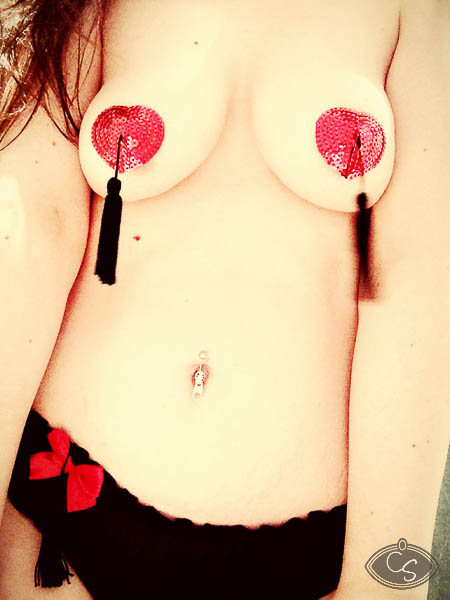 iCollection 3 Piece Sequin Pasties Cut-out Panties and Mask Set £14.95
These two sets are fantastic value and they're good quality too. They're comfortable to wear, which was a surprise to me, as sometimes lingerie from sex toy shops can be a bit flimsy, easy to break and don't fit very comfortably either. I'd happily wear the black knickers under clothing all day, although the red lace strappy knickers don't have a cotton gusset so I'll save those for the bedroom only.
The pasties simply attack over your nipples by peeling the plastic layer off and there is a layer of adhesive which keeps them in place. Good for jiggling, twirling, bouncing and more!
Out of the two sets I prefer the black panties and red sequin pasties set, but the red lace gauntlets on the other set can be used either tied to each other for very soft bondage or made into a bow on each arm for decorative effect.
I expected these lingerie sets to be priced a lot higher than they are. For the prices given they represent fab value and I recommend them either as a romantic gift for her, for Valentine's Day or any time, or as a special treat for yourself. Go on, you deserve it!
Browse the icollection lingerie range at Simply Pleasure – it starts at just £4.95.
– Cara Sutra
Gallery