Well – it's been a while but here we go… a sex toy review for a paid for toy! Shocker!
Ok so I didn't pay for it (sorry), but rather one of the lovely community people over at the Lovehoney forum selected it for me after seeing my wishlists there. Thank you, kinkycop.
When something is bought through one of your Lovehoney wishlists (yes, you can have multiple lists and name them all – the joy!), the item gets sent to your address which you have registered with them. The person who buys your gift(s) never sees your address though, this is just kept on file with Lovehoney. It's a very clever, confidential and safe system and one that I have been involved with and a fan of for years now.
So a lovely surprise arrived sometime before Christmas, a package from Lovehoney in their usual discreet outer packaging. Inside, a gift box (you can select gift wrap at the checkout or buy the boxes separately on site) containing the Icicles No 29 Glass Dildo and some Lube Tubes which I plan to review separately. At some point.
This 7″ long glass dildo has been beautifully designed and forms part of the Icicles range of sex toys, from Pipedream Products in the USA. It is hand blown glass, the glass of course being borosilicate (Pyrex) glass which is shatter resistant, heat resistant, non porous and body safe.
It comes in a well designed box too. I know most people chuck the box away but it's worth mentioning that the Icicles 29 comes in a shop style presentation box, with magnetic closing front that opens to reveal the dildo through a plastic window and some information on the inner leaf.
Open the box at the top and you find that the Icicles No 29 dildo is very securely packaged, set within foam inside the box. This dildo has been kept protected from rattles and bumps and drops, from manufacture, through transit and delivery.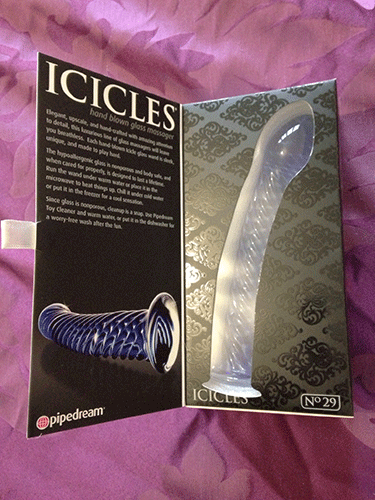 Removing the dildo from the foam insert, I was instantly pleased with the feel and weight of the toy. It is glass, so you can expect it to be weighty – not as much as stone or steel, but heavier than silicone, jelly or plastic.
The gently curved length features a bold twist (think cough candy) which gives the dildo shaft diagonal ridges for extra stimulation. The tip has a smooth, rounded head with a gently pointed finish.
I love glass sex toys and this dildo is no exception. In fact the ridged surface makes it a favourite even in my well stocked glass dildos box. I really like the fact I can use any lubricant with it as well, whether silicone or water based. Tingling or warming lubes are particularly fun – the contrast between cool glass, against flesh which is prepared with speciality sex lubricants, is just breathtaking.
The bottom of the dildo is flat meaning is stands on its own, in case you wanted to keep it on display, or stand it on your bedside cabinet between uses. It's just so pretty!
During use it feels sublime to slip between those hot and puffy labia, slick with lubricant, ready for entry. Clit erect and tingling in anticipation of those teasing ridges slipping over the sensitive nerve endings there, as the smooth head finds my hungry entrance and makes its journey deep within.
The curve of the shaft means the tip of the head can be angled for G-spot stimulation if you don't insert it all the way in. It brushes over you there, inside, in a most delicious manner.
As you slide the dildo in and out, of course, you can feel the true benefit of those ridges not only as your vagina tightens around the shaft but also with your labia on the outside.
it is easy to control and hold because of the flattened base and the slight 'lip' around the bottom edge.
The pleasure isn't limited to vaginal penetration with this dildo either: you can use it for anal stimulation too. Sure, the base isn't very flared, but the dildo has 7 insertable inches, giving you enough to hold on to for optimum control.
As it is non-porous glass all you need to do is make sure you clean the dildo thoroughly between uses (and orifices) with an anti-bacterial sex toy cleaner (see my other sex toy cleaner reviews here).
I've really enjoyed using the Icicles No 29 glass dildo and would recommend it to all who love not only glass sex toys but also highly stimulating textures and versatility in use.
It would also make a fantastic Valentine's Day gift, obviously!
Want it? 'Course you do.
Get it here at Lovehoney for £33.99 with free, fast discreet delivery (when in stock!).