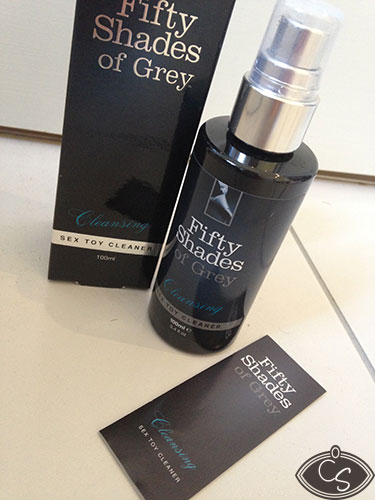 First came the book. Then the other two books, making it a trilogy. Now EL James is an award winning millionairess, having made her fame and fortune by writing the book that built the bridge between vanilla and kink for so many previously unfulfilled and uneducated people.
It didn't seem to take too long before the merchandise appeared, the best selling of which has to be the Fifty Shades of Grey Official Sex Toys Collection. The past six months have seen the release of the Sensual Care Collection, a selection of bedroom and romance products once again inspired by the trilogy.
Although I have written reviews for some of the products in the of the Fifty Shades of Grey Official Sex Toys Collection, I didn't have anything from the new Sensual Care Collection until last week. Simply Pleasure kindly sent me a few things from the range, including:
Cleansing Sex Toy Cleaner (reviewing here)
I will add the other review links as they are completed. I see from ETO magazine this week that there are even Fifty Shades of Grey condoms now too! Surreal.
Anyway in this review I am tackling the Cleansing Sex Toy Cleaner. Pretty simple stuff, it either cleans your toys or it doesn't. You like the smell of it or you don't. This does clean your toys and I like the smell too. Win!
The bottle contains 100ml and costs £6.99, which is more expensive than the standard sex toy cleaners which go for about £4-5, but you're paying a little more for the name as well as a different blend of ingredients.
There is a plastic cap which you pop off (and if you're me, don't bother ever putting back on) and it's simply a case of spray over your toys when you're done with them. The ingredients in the sex toy cleaner kill any nasty bugs and bacteria that could remain on the sex toys after washing with just soap and water.
The bottle has a pretty themed label with all the info on, and comes in a presentation box with a little leaflet about the product. It's all set up to make a great gift, or part of a gift to a Fifty Shades fanatic. Trust me, if he or she loves 50 Shades they will love this product – well, the whole range.
Anyway. After using my realistic dildo, my swan vibe, my Stronic Drei and a new OVO cock ring over the past few days (I've been busy – reviews as soon as I can manage) I used my new Fifty Shades of Grey sex toy cleaner afterwards too. It's easy to spray, gives a generous coverage with every spray and smells magnificently clean.
There is almost a tea tree oil quality to it, scent wise; something eucalyptus and medically astringent that gives you a reassurance that your sex toys are 100% clean.
I sprayed and left on for at least a minute then wiped off.
No problems with this cleaner, the packaging is pretty, it's a great accessory for any fan particularly if you buy them a Fifty Shades of Grey sex toy at the same time, it's hygienic and isn't too costly.
Can't fault it!
PS The ingredients are: Aqua, Denatured Alcohol, Melaleuca Alternifolia, Leptospermum Petersonii, Lavandula Angustifolia, Decyl Glucoside, Polysorbate