Promescent Climax Control Delay Spray Review
By Pleasure Panel reviewer KurosakiKun
The first time I ever used a delay spray I was utterly underwhelmed, in the review I noted that if anything, the spray acted as a lubricant and actually accelerated my orgasm!  With the chance to try another delay spray which had some pretty positive sounds around it from fellow reviewers, I thought I would give the Promescent Climax Control Delay Spray a go.  I'm glad I did as this small bottle of spray certainly follows Ronseal's motto of doing exactly what it says on the tin!
Packaging
Housed in a swanky black box with an embossed silver motif (which looks suspiciously like a simplified reproductive system) and bold silver PROMESCENT, the box of Promescent Climax Control Delay Spray could easily be mistaken for a small tester of expensive aftershave.
Background Info
The Promescent Climax Control Delay Spray box itself informs us on the front that it is a 'Male genital desensitizing spray with lidocaine', personally before seeing this product I had no idea what lidocaine was.  A little research later and it's no surprise that lidocaine is a medication used to numb tissue in a specific area, when used locally as a numbing agent; local neurons cannot signal the brain.  Sounds like the perfect ingredient for the job of desensitising my willy!
As well as that, the box claims to 'Help temporarily prolong the time until ejaculation' and that it is a 'Fast acting lidocaine based formulation', all important information you should look into before spraying onto your most sensitive of sensitive parts.  If you are allergic to topical anaesthetics you should stay well clear of this delay spray.
Directions
On the sides of the box we have a whole host of Inactive Ingredients, you would need to be a pharmacist to know what most are, a section on Active Ingredients, which is your lidocaine, a section on what it is used for and various warnings.
The back of the box is home to a section of Directions, which advise you to use 3 or more sprays, not to exceed 10 though!  Once sprayed, rub into skin then wait 10 minutes before any sort of sexual contact.   Last but not least there is a small section on how to prime the spray pump, a lot of information on a small box!
The Bottle
The Promescent Climax Control Delay Spray itself is a small pump action spray bottle which is holding 1.3ml of the spray.  I have found that that is about 17-20 sprays approximately.  The bottle has a black sticker around it which has the exact same write up as the front of the box, nice and small and easy to stash in your bedside table drawer!
First Use – Solo
The first time I used the numbing Promescent Climax Control Delay Spray I thought it would be a good idea to test it alone and see what needs to be done and if it actually worked.  Following the instructions I sprayed three times on the head and shaft then rubbed it into the skin.  I wasn't sure if it made a difference to do this erect or not but every time I tried it I have been erect when applying.  After spraying and rubbing in, the heat engulfs your penis, not uncomfortable or painful, but while working its magic it really gets hot!
The Effects
Now the wait, the longest 10 minutes of my sexual life. The heat, numbing effect and 10 minute wait caused loss of erection every time I tested the Promescent Spray.  So the 10 minutes are up and I grab my penis to see what's happened down there and lo and behold, it's numb!  It's not just slightly less sensitive; the head of my penis was like how your lips feel after having an injection at the dentist, you can feel them but you can't, slightly bizarre.
After a bit of messing about and regaining an erection, I began the 'proper testing' and got down to doing what a penis-owner knows how to do best.  20 minutes later I came and I came hard.  Every masturbator with a penis knows what they like and generally knows how to make themselves orgasm quickly, or how to prolong it, normally by deploying different grips, pressures, angles of wrist etc, etc.  It's one thing we perfect in our teens.  I tried all my best moves (actually laughed at myself while writing that) and came after 20 something minutes, impressive!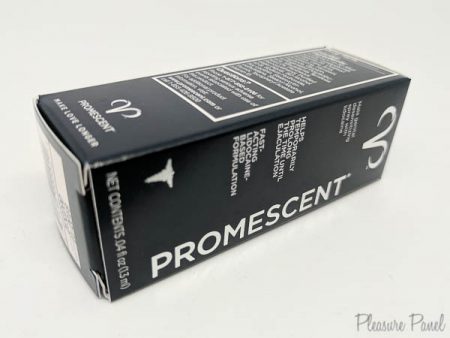 Let It Linger
The Promescent Climax Control Delay Spray numbed me just enough that every time I got to a point in the session where I could feel the oncoming orgasm it would plateau and linger for a lot longer rather than increase and increase constantly to orgasm, rather like a long session of edging.  As with a long session of edging, there was a lot of pre-cum during the numbed wank.
During Sex
After conquering that feat alone, the obvious next step was to try it with someone else!  We were both aware of the fact that we were going to try the Promescent Climax Control Delay Spray, so when it came to spraying it on it wasn't really a passion killer and her helping rub it in was interesting.
Then the dreaded 10 minute wait came, she set her stop watch on the phone (sad I know) and then received 10 minutes of oral sex as we waited, bonus for us both!
The sex that followed was brilliant, if a little strange for myself, when trying it alone obviously I could feel myself because of my hand, but during intercourse the feeling is completely different, numb to the pressure but could feel the warmth, you know you're there but only just!
Silver Medal
With me being desensitised by the Promescent Climax Control Delay Spray my good lady had her orgasm before I did so proceeded to finish me off manually (I warned her about oral sex after seeing a twitter status from @JustJessReviews who had numbed her mouth, thanks for the heads up!). The resultant orgasm was hard but slightly muted (I think from a lack of sensitivity in the frenulum).
I was worried that the spray may transfer during sex and numb my partner but there were no complaints to speak of.
How Many Sprays?
I've since tried the Promescent Climax Control Delay Spray with the full 10 sprays (alone) to see what would happen in the interests of fair and thorough testing……  I didn't find that it numbed me any more than 3-4 did.  I think you can only be numbed so far and then it doesn't affect you anymore, 2 hours later I still feel a slight numbing to the penis though, whoops.
As for how long it lasts, I found that with 3-4 sprays, around 40 minutes was when I got full feeling back.  It certainly does what it sets out to do and numbs you where you need it.  If you suffer from premature ejaculation this should help, it is definitely strong enough to work.
Scent
The only thing I didn't like about the Promescent Climax Control Delay Spray was the smell. It has a very sharp, medical smell to it that really does linger on your skin.  After a few washes the smell is still strong on my hands, so you will need a good scrub to really get the smell gone!
Conclusion
I think the Promescent Climax Control Delay Spray deserves a 9/10. It claims to be a Climax Delay Spray and it does exactly that; if it was a bigger bottle for the price and didn't smell so strongly it would be a full 10. Recommended!
– KurosakiKun
---
Where To Buy
Thanks to Pleasure Panel reviewer KurosakiKun for this review of the Promescent Climax Control Delay Spray. You can buy it here at promescent.com for $19.95 for a trial sized bottle (1.3ml), or $59.95 for a full sized bottle (7.4ml).

This product was sent free of charge, in exchange for a fair and honest review by the Pleasure Panel, by Promescent.com. Thank you! 🙂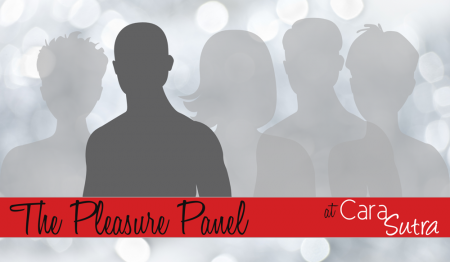 This review does not contain any affiliate links.