Pasante Ribbed Condoms (With Free Flavoured Condoms) Review
by Pleasure Panel reviewer Cheshire Kink
Here is my review of the Pasante Ribbed Condoms which also included 3 flavoured condoms.
So condoms – love them or hate them, mostly we all need to use them at some point in our lives.  I (Mr) have had the snip and so we don't need to use them, however as we are a swinging couple we use them when we play with others.  I have to say I'm a condom snob and have found a brand and size that suit me and I suppose I compare everything against them.
The Pasante Ribbed Condoms came in a box of 12 and our pack also included 3 flavoured / coloured condoms in the box.  The box also included an information sheet that gave important information and how to use a condom and on the other side it showed more of the Pasante product range.
Red = strawberry
Blue = blueberry blast
Green = mint tingle
Mrs Kink was intrigued to try the flavoured condoms first as it would be a "first" for her, and she hates giving oral with a condom on, so it would be good to get her opinion.  All of the condoms had a good depth of colour and due to this colour it was weird at first looking at my red willy, however it was also horny seeing Mrs Kink wrap her mouth around it.  I thought the colour might become more translucent as the condom stretched (like balloons do) however this was not the case and made the experience more fun as it could then involve some fantasy elements.
Mrs Kink rated all of the condoms of flavour.
The (Red) strawberry she rated as 8/10 it as it had a strong and pleasant taste which lasted for about 30 seconds before it went.
The (Blue) blueberry blast was rated as a 7/10 as she didn't like the taste as much and she felt that the taste went a lot faster.
Finally she tried the (Green) mint tingle condom and she rated this 5/10, this was because the flavour wasn't very strong and had gone after a matter of seconds.
She was disappointed that the flavours of all the condoms didn't last as long as she hoped but was happy that once it had gone the taste of the condom was neutral and not a latex/rubber taste as she had experienced in the past with normal condoms.  The condoms where wet when removed from the packaging and I think this was the actual flavour.  Once the flavour had left the condom they did feel dry and I feel wouldn't be suitable for penetrative sex without first using some water/condom safe lube.  Like I said I'm a condom snob and I felt they were too tight for me and the bottom did like it dug in a little too much and there wasn't much movement with the condom.
We than tried the Pasante Ribbed Condoms condoms for size.  They were well lubricated and the ribs were noticeable as I rolled the condom down.  Again I found these too tight, I have tried Pasante large condoms in the past and find them a much better fit for me.  The first test was Mrs Kink riding me. I have to admit I couldn't feel the ribs and they did nothing for me in this positon.  Mrs Kink said she could feel the difference and said it felt nice and had more friction than a normal condom and so she felt more.  We then tried doggy position with me entering from behind.  This for me was much better as I could feel the ribs as I moved in and out.  I think this was better for me as I was withdrawing more than I had been able to in the first position and so I felt more.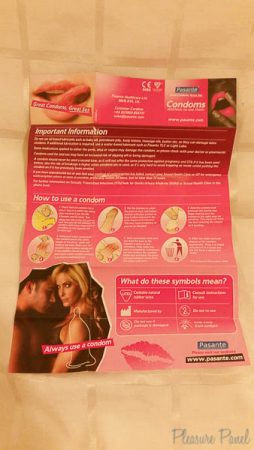 Overall Mrs Kink rated the Pasante Ribbed Condoms 8/10 as the ribs helped her to get more pleasure during sex. I rated them 6/10 as I found them too tight and it didn't enable my foreskin to move up and down during sex and if I had continued I think I would have hurt myself.
As a package with the ribbed and flavoured selection we as a couple rated them 7/10.  If these come in a larger size I would love to review them to see if that bigger size meant a more enjoyable experience for me (Mr Kink).  They were fun to test and the coloured/flavoured condoms did add an edge of excitement to our foreplay however Mrs Kink did say she loves the feel of a willy in her mouth and the condom did detract from this.
– Cheshire Kink
---
Thanks to Pleasure Panel reviewer Cheshire Kink for this guest review of the Pasante Ribbed Condoms With Free Flavoured Condoms (£4.99; the image is now different, so no guarantees offered for free flavoured condoms in your pack, sorry!)
These condoms were sent free of charge, in exchange for a fair and honest review by the Pleasure Panel, by Superdrug. Thank you!
Useful Links
This review does not contain any affiliate links