Oxballs Finger Fuck Textured Glove (Black) Review
By Pleasure Panel reviewer Louise Lace
I was lucky enough to be selected to review the Oxballs Finger Fuck Textured Glove (available from Simply Pleasure & Prowler) as part of the Pleasure Panel. I have a toy box bursting with dildos, vibes, wands, whips and floggers but what I don't have any of is kink gloves. I do keep a pair of leather gloves for sensation play but I don't have any vampire gloves etc. So I jumped at the chance to review the Oxballs Finger Fuck Textured Glove.
My parcel arrived in the biggest of jiffy bags, I honestly thought I had been sent a Hulk hand through the post by mistake. Of course Cara is too professional to mix up her parcels and I am sure her other half would have something to say if she started packing up his comic book memorabilia, so needless to say, the contents of the parcel was all present and correct.
The Oxballs Finger Fuck Textured Glove is packaged in a very large plastic clam shell style packet, the textured glove presented in all its glory, absolutely no doubt as to what this packaging contained.
The red and black card surround is very manly with bull branding in the top corner and swear words printed in full. The packaging and Oxballs website scream 'male' though the product contained within can easily be used by either sex, after all, we all have pokey holes.
The bumpf on the packaging informs me that the glove is reversible, meaning it can be used on either the left or right hand, this is handy (ha ha, get it?) as I'm a righty and my OH is a lefty.
It is manufactured from, and I quote, "super-soft blubbery FLEX-tpr". Hmmmm… blubbery is not a word I would usually use when referring to 'sexy' situations; walrus springs to mind. Obviously the mention of TPR is slightly concerning, TPR is well documented to be a porous material which harbours bacteria and therefore is not ideal as an internal toy, even more so when the product is specifically marketed for anal use. The Oxballs website product description for this product is filled with references to anal penetration.
It's not like I could even cover it with a condom as that would mean stretching one over the entire glove rendering the finger details useless or risk putting one on each finger tip and potentially losing a few when in use. That said, I haven't seen a silicone version of a fingering glove on the t'interweb so in this case, I will just have to take one for the Pleasure Panel team and hope for the best.
The packaging does inform me that the Oxballs Finger Fuck Textured Glove is Phthalate-Free so that's better than nothing.
Taking the glove out of the packaging was easy. The clam shell just popped apart, no hygiene seal to get me in a flumux, though this does mean I will need to give it a good wash before I use it. The packaging advises that it is washed with soapy water and left to air dry.
My first comment when I touched the Oxballs Finger Fuck Textured Glove was "urgh, this feels like that slime stuff the kids used to love, I'm not sure I can put my hand in it!"
For those of you who don't know me in real life, I'm incredibly weird about textures. I cant eat food that is both lumpy and runny – soup with bits of veg… nope, put my feet in shoes with memory foam insoles… cringe, touch wet-look fabrics… nope, nope, nope. I am going to have to put my big girl pants on -or a pair of latex gloves- if I am to get my hands in this glove.
In the name of a fair review, I brace myself, grit my teeth and plunge my fingers into the super cold, super weird FLEX-tpr glove. Though the material is stretchy, it is also very 'grabby' and it is a bit of a struggle to get my slim fingers into the glove. I'm not sure my cringing and squealing helped the situation though.
The tips of the the thumb and middle finger have dollops of FLEX-tpr in them which feels super yack but admittedly this is a necessary part of the individually textured fingers of the Oxballs Finger Fuck Textured Glove.
Each finger has a different pattern of groves, nobbles and bumps. The thumb is very reminiscent of a honey dribbler, the forefinger is covered in bumps, the middle finger is an uncut penis tip, the ring finger a twisted spiral and the pinky finger a car tyre pattern. Not to be missed out, the palm on both sides of the reversible glove has a subtle bumpy texture. There really is a huge variety of textures to explore with this one. I'm intrigued as to how these textures feel when inserted into my body.
The glove was a tight fit on my hand and I was dubious that my OH would be able to get his shovel hand into it. However, the packaging claims of being 'super stretchy' were in fact true, and with a little tugging (not that kind of tugging!) he was able to get it securely on, though he did whinge that it had pulled a few of the hairs on the back of his hand out in the process.
Time to lube up and put the Oxballs Finger Fuck Textured Glove through its paces. My turn first; my OH started with the pinky finger as this was the least prominent of the textures. In all honesty I barely noticed the textured pattern so we swiftly moved on to the spiralled ring finger. Although my OH struggled to get the angle right while wearing the somewhat cumbersome glove, I did notice the spirals and could feel each twist as he slowly moved his finger in and out of my body.
Next up was the mini penis on the middle finger. The bulbous tip was similar to a slim vibrator, without the vibrations obviously. The bumpy forefinger was very similar to that of a bumpy condom, though the bumps were only noticeable on entry and exit but not overly obvious when thrusted.
The highlight of the glove for me was the honey dribbler thumb. Wide, ribbed and firm, this one really got my honey flowing. I think my OH would have preferred this design to be on one of the fingers for ease of use but he soon found his rhythm, and I was squeaking in delight rather than disgust.
A few days later, I pulled on those big girl panties… After a glass or three of wine, I slipped into Miss Mode and a pair of killer heels and quickly stuffed my fingers into the glove. Time for OH to be on the receiving end.
Being the gentle Miss that I am, I warmed the OH up with an ungloved finger first and after applying some thicker, for anal use lube, I was ready to prod and poke my blubbery fingers into him.
Like me, OH didn't really feel the texture of the pinky finger but did let out a little "oooh" with the spiralled ring finger. He wasn't overly impressed with the penis finger or bumpy forefinger but did enjoy the honey dribbler thumb.
While the Oxballs website suggests the Oxballs Finger Fuck Textured Glove is ideal for fisting, neither OH nor I were feeling up for a fisting from a blubbery fist.
Both OH and I struggled to remove the glove. At one point I was convinced I was going to be stuck with the weird feeling FLEX-tpr stuck to the end of my arm forever. The popping sound made when I finally freed my fingers was almost as gross as the texture of the toy!
Cleaning the Oxballs Finger Fuck Textured Glove was a faff. The worry over the potentially porous material coupled with all of the grooves and nobbles meant I was scrubbing for ages. Once dried, the glove felt quite sticky and within seconds it was grabbing fluff and dust which meant it would have to be cleaned again just before we used it next time. I even resorted to using a lint roller and as you will see from the images, I still didn't manage to rid the glove of all the fluff… this really is grabbier than a grabby machine hand!
While I liked the idea of the different textures on each finger, the potentially porous, slime like material was just not for me, I prefer to smile or gasp when in the throes of passion, not grimace and whine.
I'm afraid this isn't the toy for me. Weird texture issues aside, I cannot recommend this glove due to the materials used to manufacture. Even the packaging advises that you store this product separately… I fear a melted mess in the bottom of my toy box in no time.
After much discussion with the OH, we have decided to rate this product a 3 out of 10. We liked the concept of different textures on each finger, the fact that it was suitable for both left and right hand and the honey dribbler thumb, but the downsides far outweigh the good.
I'm not sure whether I want to thank or spank Cara and Simply Pleasure for sending me the Oxballs Finger Fuck Textured Glove for my personal and honest review!
3/10
Lou x
---
Where To Buy
Thanks to Pleasure Panel reviewer Louise Lace for this review of the Oxballs Finger Fuck Textured Glove.

Also available from Prowler.co.uk
The Oxballs Finger Fuck Textured Glove was sent free of charge, in exchange for a fair and honest review by the Pleasure Panel, by Simply Pleasure. Thank you! 🙂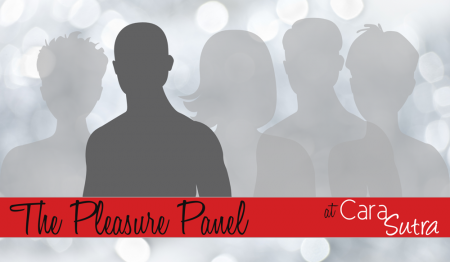 Contains affiliate links.