MEO AnalPush Extreme Anal Sex Lube Review
By Pleasure Panel reviewer Fozzbear
I was sent a bottle of MEO AnalPush Extreme Anal Sex Lube (available from MEO.de) by Cara Sutra to test on behalf of her Pleasure Panel in exchange for my open and honest review.
MEO is a German company that is a leading supplier of fetish and erotic products, they sell a huge range of kinky items with everything from lube to electrostim and bondage wear to some eyewateringly large buttplugs; their website is definitely not for the faint hearted. There's not much you won't find no matter what your kink.
MEO have stuck to three colours, white, black and red for the bottle creating an elegant look. My first impressions were good, I liked just how simple and well laid out it is; however, having ANALPUSH splashed across the front it's not the most discreet lube I've used!
The MEO AnalPush Extreme Anal Sex Lube is designed around extreme anal fun and stretching; its main function is to numb, relax and lubricate you in preparation for light to intense anal games. The MEO AnalPush Extreme Anal Sex Lube is formulated to aid in stretching the muscles down there, creating easier access for deeper and girthier penetration.
Down to the testing.
I found the MEO AnalPush Extreme Anal Sex Lube is extremely slick, I split some just turning the bottle over to pour some onto my hand, it was very easy to clean up, a big plus as I have used silicone lubes before and find they can leave an oily mess, thankfully not in this one. It was easily wiped off with baby wipes which is a must and they're an essential for me and my Mrs when we're playing.
The MEO AnalPush Extreme Anal Sex Lube has a pleasant smell, nothing strong or chemically and it's also basically tasteless; it's not intended for edible use, I was purely tasting it for testing purposes.
I first put some of the lube on myself and found it had none of the cold or tingling sensations I have noticed on previous numbing lubes, this is a thumbs up from me. I warmed myself up with my fingers first, it took less than half the amount of time it typically takes before I move onto toys. I felt much more stretched and relaxed than I am normally.
I added a little more internally and found it worked with immediate effect numbing the whole area more and more with the passing moments. I decided to leave it five minutes before using toys and by then I was totally desensitised but felt under lubricated so I grabbed a bottle of silky water based lube and added a little extra. I started with a silicone pegging dildo using a condom over it as silicone lubes and toys don't mix.
I've used this dildo previously, both alone and with my Mrs, and found it unsatisfying as it lacks girth but coupled with the MEO AnalPush Extreme Anal Sex Lube it was a perfect combo and they worked amazingly. As I was desensitised the girth wasn't as apparent and the stim was a perfect balance of intensity and pure pleasure making me feel amazing.
The effects post play lasted a very long time, they wasn't kidding when they said it was long lasting! I'd say it was around the thirty minutes to an hour after I'd finished playing before I was completely sensitised again. There was no lingering effects from the lube, no pains of any kind and all the stretching returned to its normal state as if it hadn't happened.
Mrs B and I have recently moved on to heavier pegging sessions and this is the main appeal of the MEO AnalPush Extreme Anal Sex Lube lube for us. I finally experienced the holy grail, a P spot orgasm with a previous desensitising lube and Mrs B has taken it up on herself to make me cum like that during pegging play with this lubricant.
Although we haven't actually managed to use it together yet, we are definitely looking for bigger and more exciting toys for our sessions and this lube will be there every step. I can't wait and neither can Mrs B ;p
Overall this lube does everything it says on the bottle it's not misleading and it works, boy does it work! If you're into heavy anal sessions or are even a little afraid of trying anal this might just be for you.
Packaging 8/10
Effectiveness 9/10
Orgasm 8/10
Overall 8/10
– Fozzbear
---
Thanks to Pleasure Panel reviewer Fozzbear for this review of the MEO AnalPush Extreme Anal Sex Lube (100ml bottle, €18.90/£17 from MEO.de)
The MEO AnalPush Extreme Anal Sex Lube was sent free of charge, in exchange for a fair and honest review by the Pleasure Panel, by MEO.de. Thank you! 🙂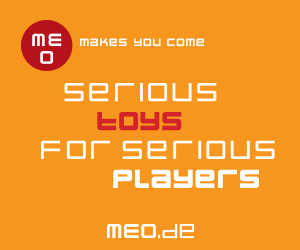 Useful Links
This review does not contain any affiliate links.