Lovehoney Desire Luxury Rechargeable Rabbit Vibrator Review
By Pleasure Panel reviewer Jezebella
I find that Rabbit Vibrators are often a gamble. They can be the wrong dimensions to fit my anatomy, the controls can often be hard to reach, and they can leave me frustratedly exhausted and wanting to chuck the whole thing across the room. However, I'm an optimist. I believe that there must be the perfect rabbit vibrator out there just for me. The Lovehoney Desire Luxury Rechargeable Rabbit Vibrator could well be the rabbit I've been searching for.
This rabbit vibrator is available from Lovehoney UK and Lovehoney USA.
Packaging
The packaging the Lovehoney Desire Luxury Rechargeable Rabbit Vibrator comes in is simply lovely. The outer box is a stylish deep purple colour, with the product pictured proudly in the centre. Upon opening up the cardboard outer box you'll find a sturdy black storage case. This is a luxury touch included with all of Lovehoney's Desire range, and it really is the best sex toy storage I've ever received with a toy.
Storage Case
The hard case is a matte black colour with the Lovehoney heart logo embossed on the front. There is a double zip around the length of the storage case. When fully open the case will lay flat, both sides exposed. On one side is a little velcro-close mesh pouch containing a USB power cable, and two thick bands of elastic to hold in place any items you wish to add. On the other side is a smaller open mesh section and one band of elastic, holding in the plastic encased Lovehoney Desire Luxury Rechargeable Rabbit Vibrator.
There's a small hole in bottom side of this side which you can feed the power cable through if you would like to charge up the Lovehoney Desire Luxury Rechargeable Rabbit Vibrator whilst it is still safely in it's case. There's also a little instruction booklet included.
First Impressions
Upon taking the Lovehoney Desire Luxury Rechargeable Rabbit Vibrator out of its plastic casing, my first impressions are really good. It's made of a wonderfully soft and smooth deep purple silicone. The silicone is practically seamless and it feels really high quality.
There's a small band of ABS plastic in a gun metal colour that acts as a separator between the rabbit and the controls. The bunny ears and shaft both feel nice and flexible, but not so flexible they would be flimsy or unable to apply pressure. The head of the shaft has a gentle curve to it, angled towards the ears in a g-spot seeking design. The whole thing is pretty and stylish and makes me very eager to try it.
Charging Up
The Lovehoney Desire Luxury Rechargeable Rabbit Vibrator came with some charge, but I decided to leave it for a full charge before first use (as recommended in this instruction booklet). You have to pierce the silicone at the base of the toy using the pin of the charger the first time you use it. You need to be pretty forceful about doing this, so try not to worry about breaking it. Once the pin end of the charger is fully in, plug the USB end into any USB port. If the Lovehoney Desire Luxury Rechargeable Rabbit Vibrator is charging correctly a light will blink in the centre of the controls. Once it is fully charged this light will stay constantly on.
Operation
At the base of the Lovehoney Desire Luxury Rechargeable Rabbit Vibrator are three control buttons. The top button is a + sign. It turns the toy on and increases the intensity of the vibrations. The bottom button is a – sign. It decreases the intensity of the vibrations and turns the toy off. The central button is a circle. It changes the vibration setting. There is also a travel lock feature. If you hold down the + and – buttons together for 5 seconds the controls will lock (a light will flash when the 5 seconds are up), meaning if you hit a button nothing will happen. Hold down these buttons for 5 seconds again and the toy will unlock.
Settings
There are eight different settings to choose from:
Setting one is constant speed whole rabbit.
Setting two is constant speed just shaft.
Setting three is constant speed just bunny ears.
Setting four is constant speed shaft, pulsating patter bunny ears.
Setting five is the same as setting four except the ears pulsate quicker.
Setting six is pulsations in both the shaft and bunny ears, with the ears pulsating faster than the shaft.
Setting seven is quicker pulsation in the shaft and three quick pulses followed by one long pulse in the bunny ears.
Setting eight is quick pulses in both shaft and ears.
Clicking the central button more than eight times will take you back to setting one. You can change the intensity of each setting independently by using the + and – buttons. You can either click or hold them down (much like holding down a volume button) to change the intensity.
There are two things that annoy me slightly about the controls. The first is that the toy comes on at the middle intensity. I personally, like to start at a lower intensity. Which brings me on to the second annoying thing: that the – button is used to switch the toy off. This is irritating because what happens is I turn the toy on and it's too intense, so I try to turn it down. I click the – button one too many times, or hold it  down too long, and I end up turning the toy off. Then I turn it back on again it's too intense and the whole frustrating cycle begins again.
I think I would have preferred it if it was designed so that the central function button needed to be held down to turn the toy on and off. In fact I'm so used to this being the case with other toys that I automatically do it when I'm trying to turn this one one before I remembered I need to use the top button.
During Use
The first time I used the Lovehoney Desire Luxury Rechargeable Rabbit Vibrator I didn't last long. I'd been trialling another toy that wasn't really working for me when I decided to switch to the Lovehoney Desire Rechargeable Rabbit Vibrator instead. I lubed up the shaft and ears using a water based lube. I inserted the shaft into my vagina and turned it on. The deep rumbly vibrations quickly filled my vagina and the ears expertly stimulated the top of my clit. I came almost instantly. Seriously the rabbit must have only been on 30 seconds or so and then I had to switch it off because I was too sensitive in my post orgasmic glow.
Remember, I had had a really good warm up before introducing the Lovehoney Desire Luxury Rechargeable Rabbit Vibrator to my vagina, and it was on a more intense starting setting than I was used to. I was worried it might have been a fluke. Mainly though, I was deeply impressed.
I tried again the next day, determined to try out more than just one setting. I had a smaller warm up this time, just using a clit vibe until I was aroused enough to comfortably take the girth of the fully lubed shaft. This time I made sure the rabbit was on the lowest intensity and at constant speed. It felt really really good as I rocked my hips against it, massaging my g-spot with the head. I didn't get the chance to up the intensity or try out any more setting, because I was blindsided by an intense orgasm that exploded out of me within a minute of turning on the toy.
I was startled yet overjoyed that the Lovehoney Desire Luxury Rechargeable Rabbit Vibrator was working so well for me. However, I felt like I hadn't been able to test it properly given the length of time I had used it for was just under a minute and a half.
I knew if I waited an hour or so it would be more difficult for me to orgasm so quickly (the other thing that stops me orgasming is drinking a bottle of wine, but it wasn't the time of day for that particular vice). I tried it again, this time with absolute minimal warm up. This time I managed to have a play with the settings, all on the lower intensities. It was a little tricky working out which button to press by touch alone, and I did accidentally turn it up a few times instead of changing the setting.
The patterns all felt interesting and added variety, and I found I could last a lot longer on the patterns than the constant speed. My body just doesn't react as much to them. I played around for about 3 to 5 minutes before switching to middle ground intensity constant speed and having another joyful orgasm.
Clean-Up
You can easily clean the Lovehoney Desire Luxury Rechargeable Rabbit Vibrator after every use using hot soapy water because it is fully waterproof. Then you can put it back safely in it's nice storage case. This kind of silicone is a real dust magnet so it's really important you store it away from dirt and dust.
In Conclusion
Overall, I really love Lovehoney Desire Luxury Rechargeable Rabbit Vibrator. I would even go as far as to say it's the best rabbit vibrator I've ever tried. It just works with my anatomy. The material and build are high quality and the vibrations are nice and deep. It's very reasonably priced too for all that you get. I'd recommend it to anyone looking for a new rabbit vibe.
I'd like to thank Cara Sutra and Lovehoney for providing me with the Lovehoney Desire Luxury Rechargeable Rabbit Vibrator free of charge in exchange for an honest review. This in no way altered my opinion of the product.
10/10
– Jezebella
---
Where To Buy
Thanks to Pleasure Panel reviewer Jezebella for this review of the Lovehoney Desire Luxury Rechargeable Rabbit Vibrator.
Buy yours from Lovehoney UK or Lovehoney USA.
This sex toy was sent free of charge, in exchange for a fair and honest review by the Pleasure Panel, by Lovehoney. Thank you! 🙂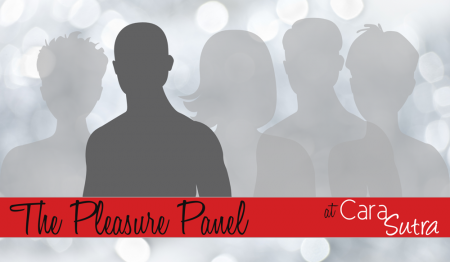 This review contains affiliate links.