Jimmyjane Afterglow Cucumber Water Massage Candle Review
By Pleasure Panel reviewer JustJess
I received the Jimmyjane Afterglow Cucumber Water Massage Candle to review for the Pleasure Panel, as always this does not affect my review.
Jimmyjane's natural massage oil candles are body safe and paraben free, the product information boasts no phthalates, sulfates, petrochemicals, animal products or animal testing; I'd hate to think any of my cosmetics have been tested on animals or contain unethical ingredients so this is a huge plus for me.
The boxed Jimmyjane Afterglow Cucumber Water Massage Candle looks simple and classy, and although this was supplied by an adult product website (thank you Innocent Sex Toys) there is no sign of this on the packaging. I'd happily leave my Afterglow on view when I had guests around without any qualms.
When removing the Jimmyjane Afterglow Cucumber Water Massage Candle from the box the scent is a little overwhelming, more like an air freshener than a candle but its not unpleasant or at all chemically and mellows when lit, the cucumber scent is fresh but quite strong. Jimmyjane describe their scents as aphrodisiac, I can't say the Afterglow had this effect on me and it's definitely not a scent I would normally have chosen but it's nice enough.
The porcelain container has a spouted end to aid pouring of the wax once melted, this is practical without looking out of place but I did find the oil split down the sides a little when poured – a minor detail but this then pooled on my dressing table as it dripped down, luckily it don't leave a mark though.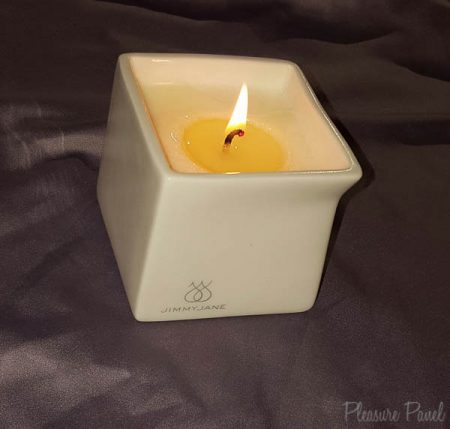 The Jimmyjane Afterglow Cucumber Water Massage Candle instructions advise to blow the candle out before pouring the hot oil wax on your partner. Having used both massage and bondage candles in the past I braced myself as my other half began to pour the wax over me however the Jimmyjane Afterglow was surprisingly cool. The Afterglow massage candle may not be suited for temperature play but it does offer a softer and more sensual experience.
Jimmyjane Afterglow massage candles have a soy base and contain a mixture of shea butter, vitamin E, jojoba, and aloe. The oil produced is light and feels very hydrating, my skin was left feeling deliciously soft, my Mr couldn't stop running his hands over me which I'm sure was all about the candle and not my naked bum beneath him.
There was no unpleasant residue left on my skin, just a delicate glisten as though I'd applied an expensive moisturiser and the oil wasn't at all sticky or greasy feeling, it wiped off my hands easily and didn't stain my sheets.
The Jimmyjane Afterglow Cucumber Water Massage Candle packaging states a 32 hour burn time but I assume this would only apply if you weren't using the molten wax for massages. We only needed to burn the candle for about 10 minutes to make enough oil for a massage and it definitely seems like we'll get at least another 5 or 6 out of it as there was no need to keep applying it.
The Jimmyjane Afterglow Massage Candles retail for £25, this is about double the price I've paid for massage candles previously but the difference in quality, elegance and design is incomparable. Once this one has run out I'll definitely buy another but I would go for one of the other scents as I didn't find the cucumber particularly erotic.
Slow sensual massages paving the way for sultry love making, covered in heavenly feeling oil? Pure bliss.

– JustJess
---
Thanks to Pleasure Panel reviewer JustJess for this review of the Jimmyjane Afterglow Cucumber Water Massage Candle (usually priced at £25)
The Jimmyjane Afterglow Cucumber Water Massage Candle was sent free of charge, in exchange for a fair and honest review by the Pleasure Panel, by Innocent Sex Toys. Thank you! 🙂
Useful Links
This review does not contain any affiliate links.