Give Lube Super Thick Aqua Lube Review
By Pleasure Panel reviewer Nat and Tom
I was drawn to the Give Lube Super Thick Aqua Lube during May's Pleasure Panel round and luckily for me, I was chosen to give it a test run. Thanks Cara! I had only tried one other Give Lube product before, the Premium Aqua Gel Lubricant, but I loved it so was looking forward to giving this one a go and I was not disappointed. I've tried quite a few lubricants for the Pleasure Panel now and I have to say that this is the best of the bunch so far. It's going to be hard to beat.
The Bottle
It arrived quickly and I was pleased to see that it was shrink wrapped. This stops leaks during travel and ensures that it hasn't been tampered with prior to use. It also comes with a plastic insert in the nozzle. I'm not sure whether this was to keep the product fresh or prevents spills, waste and mess (or both) so I've put it back into place after each use. The product dispenses via the pump and one or two squirts is generally enough to get a desired amount.
The Consistency
The first time I used the Give Lube Super Thick Aqua Lube I was quite surprised. I've tried a few lubes described as super thick in the past and have always been disappointed when the consistency turned out to be unimpressive and watery, but not this time. It actually delivers. It stays put where placed until it's properly applied to the genitals or sex toy.
I'd describe the Give Lube Super Thick Aqua Lube as having a gel like consistency and that's probably my favourite thing about it. It feels incredibly slick throughout use and doesn't begin to get sticky or tacky after a while. If anything, it provides a soft, refreshed feel to the skin and a barely there residue on the surface of a sex toy.
Formulation
I made sure to do a patch test on my partner and I before use as we both have sensitive skin. We had no reactions to it at all, but I took a look through the ingredients list and opted against using this vaginally. It contains glycerin, which is not the best ingredient for those of us who are prone to UTI's and I just didn't want to risk it.
The Give Lube Super Thick Aqua Lube also has propylene glycol, which some people can be sensitive to or prefer to keep away from their intimate areas. If you have issues with either ingredient then I wouldn't recommend this product to you and I'd point you in the direction of the above mentioned Premium Aqua Gel instead. Every cloud has a silver lining though and in this case it's the absence of parabens.
During Use
As vaginal play was ruled out we decided to use the Give Lube Super Thick Aqua Lube in two other ways. The first was as an external masturbation lube for him and the second was for anal use. When used for masturbation, this lube allowed him to ease inside his penetrative toys quickly and comfortably, which he appreciated. He wasn't so fond of it during hand-jobs as he found it was a little too thick and removed all of the friction, rather than most, and he likes to feel a bit of resistance. It was also a bit slippery which made keeping a firm grip on his penis difficult. It's great for use with his toys, but not so much for hand to hand contact.
Based on our experiences, the Give Lube Super Thick Aqua Lube is best suited to anal. I found that it provided an extra thick layer of protection to this sensitive area, whilst reducing friction and discomfort. I've been able to take a few toys for the first time anally that I couldn't have done without the additional thickness so I will definitely be keeping this on hand for future back door sessions. It doesn't last as long as silicone lubricants would, but it maintains slippery for around 20-25 minutes before needing to be reapplied or reactivated. You can reactivate with a spray bottle of water, which is something we always keep close by.
In Conclusion
Overall, I think the Give Lube Super Thick Aqua Lube is a great lube. My partner mentioned that it didn't particularly taste of anything but the texture is not something he'd want on his tongue. He'd recommend using a flavoured lube for oral and switching later on. It's difficult to describe the scent as it's not chemical or particularly obvious, but I feel it's on the lines of being plant-based. Think Aloe Vera. It definitely shined for anal play, and although we can't vouch for vaginal use, I feel it would be great for those who struggle with conditions like vaginismus. It can be used with all sex toys and protective barriers as its water-based and latex compatible. If it wasn't for the glycerin and glycol I'd be giving it top marks.
– Nat and Tom
---
Where To Buy
Thanks to Pleasure Panel reviewer Nat and Tom for this review of the Give Lube Super Thick Aqua Lube. 
This lube was sent free of charge, in exchange for a fair and honest review by the Pleasure Panel, by Give Pleasure Products. Thank you! 🙂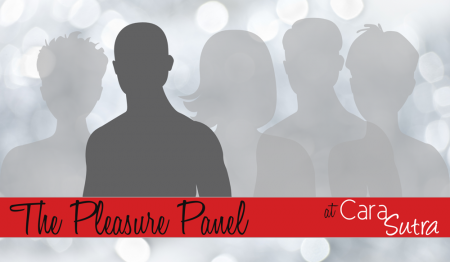 This review contains affiliate links.