Evolved Rose Vibrator Review
By Cara Sutra
Vibrator Kingdom are such a friendly and thoughtful company who recently took my breath away once more recently, when they sent me a delightful package especially for Valentine's Day. Amongst some other goodies I received the Evolved Rose Vibrator in Red (available to buy here), which looked very interesting indeed.
First of all I must comment on the unusual packaging from Vibrator Kingdom. Looks like popcorn, smells like popcorn… most importantly isn't popcorn, so don't eat it!
Threaded through with clean hay and dried flowers, it's very pretty although it did make a little pile of mess on my bed as I tipped the box out to retrieve the contents. I didn't mind too much though, it was easy enough to put back into the red plastic 'shoe box' style container. I still haven't thrown it away, I'm sure I can use it for something lovely. An Easter Egg hunt, perhaps!
I also got some rather lovely 'sex toys' socks and some uber cool false eyelashes which I am going to attempt to wear on a special night out.
The Evolved Rose Vibrator in Red is part of the Evolved range of sex toys. Although I have come across (pun unintended) the Evolved sex toys before, I don't believe I own any others. I've had a quick look through some of the large sex toy shops online and can't see them being sold anywhere anymore. What I remember of Evolved sex toys are the cute diamanté decorated bullet vibes.. Bling Vibrators or something they were called, with a specially tin gift boxed one in red for Valentines.
Anyway.
Evolved seem to be a mid-range kinda brand, with battery powered, fairly well made sex toys that have a good turn over of sales wherever they are sold. The Evolved Rose Vibrator retails for £24.99 which I think is around the right price, it's much more alluring to me than a rabbit vibrator for around the same price.
The Evolved Rose Vibrator is 11 inches in overall length, with the silicone 'bud' measuring 2.5 inches in length approximately and the circumference of it at the widest point being 5 inches.
The bottle green stem seems to be a strong, rubber coated bendable metal, with a white plastic ridged handle. The stem bends surprisingly well, with no sign of near-breakage or any other worrying symptoms. As you can see it has the capacity to bend completely in on itself, so you will have no trouble putting it into a position that is just right for your body.
The Evolved Rose Vibrator is battery powered like I've stated. I'd almost forgotten how to work battery powered toys, I am such a rechargeable top-end whore these days! haha. Yes, also for sex toys.
The Evolved Rose Vibrator takes 2 AAA batteries, which are not included unfortunately, but if you're a good girl then you'll have a decent supply of AAA and AA batteries for just such times.
To insert, just unscrew the end of the handle (the white part) and it opens to reveal the battery compartment which is clearly marked with the directions you insert them. Screw the cap back on and voilá! Your rose is ready to be used.
As the Evolved Rose Vibrator has a silicone tip, you need to use water based lubricant with it, silicone lube will deteriorate the soft material.
To power up, click the flat black button on the base – the flat part at the bottom of the white handle.
There are a variety of 10 different vibrating functions, a few constant in low, medium and 'high' then some variants of pulses and oscillations.
Press and hold to turn off.
The Evolved Rose Vibrator is also completely waterproof so it can act as a special companion for your bath or shower time.
I love all but one thing about the Evolved Rose Vibrator. It's pretty, it's a great idea, it's flexible and waterproof and has a great quality silicone tip.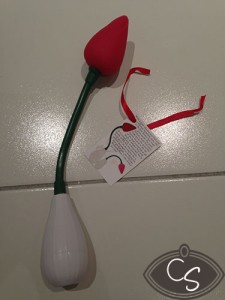 It's also as weak as a day old kitten.
Honestly, if you're a power queen like me, chances are you're not going to get along with the Evolved Rose Vibrator. It's such a shame!
If the power was rammed up to RO-80 bullet vibrator level, I would absolutely adore it. Instead, it's more like the vibrations from a Henry vac being used 3 buildings away. I have had much more powerful battery powered toothbrushes and would have far more success getting myself off with one of those too.
I'd even written a little poem:
The rose is red, the batteries are blue, it's your flexible friend that feels good against you.
But in truth, it doesn't. It isn't even a buzz, it's more of a purr or a snore.
Perhaps it would be good as a first sex toy? Someone just learning about accompaniments to masturbation and exploring their body?
I don't really have anything else positive to say about the Evolved Rose Vibrator. I am so sorry Vibrator Kingdom but this toy just doesn't hit my spot.
~sad face~
If you want to give the Evolved Rose Vibrator in Red a whirl (stick ears and a tail on it and adopt it as a kitten, perhaps), you can get yours here from Vibrator Kingdom for £24.99.
July 2016 Update
Please note that the Vibrator Kingdom website no longer exists, so their links for the Evolved Rose Vibrator in Red have been removed. However you can buy yours here at Amazon.
You can also buy extra powerful vibrators at Lovehoney and check out their sex toy special offers too.

This review contains affiliate links