Durex Survival Kit: Vanilla Scented Candle
Pleasure Panel review by Danae
The vanilla-scented candle included in the Durex Survival Kit "Turn Off to Turn On" package comes in a nice and sturdy candle holder. In fact, I will probably re-use it once I'm done with the original candle – although that might take a good long while. This simple candle has many hours in reserve.
It does smell like vanilla, although the scent is relatively faint. I thought it didn't have much of a smell at first, but once I exited the room and came back, I could feel that the sweet aroma had simply gradually filled the room without being aggressively present. Thereafter, I became aware of this background scent, which is very pleasant.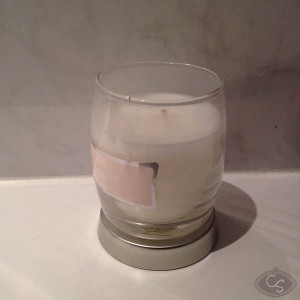 If you like candles whose scent will set the mood without being overly present, this one will do the trick. It also gives off a lovely light that will help you feel relaxed and soothed, whether you decide to use it for some alone time or for a romantic moment.
– Danae
Many thanks to Danae for this guest review of the vanilla scented candle from the Durex Survival Kit, which was part of the Turn Off to Turn On Earth Hour campaign in March 2014.
– Cara Sutra