This month we are absolutely delighted to receive and review the Titus Silicone Series Puppy Tail Butt Plug Large from Clonezone. Puppy play isn't something we have done before but hey we're very much a try anything once couple so here goes.

I'm not into puppy play, but I'm always game for a good butt plug. After submitting 3 reviews for the May Pleasure Panel round, Cara had a few more items to review so I decided hey, why not help out, it is my pleasure! So a week later the Titus Silicone Series Puppy Tail Butt Plug Medium arrives in the post.

I was sent the Titus Silicone Series Ribbed Butt Plug 3 Pack Anal Training Kit by Cara Sutra via her Pleasure Panel (supplied by Clonezone UK) for my open and honest review.

I was pleased to be selected to test and review the Titus Silicone Series Puppy Tail Butt Plug Small, for the Pleasure Panel. I would like to thank Cara for selecting me and Clonezonedirect.co.uk for supplying the toy.

Cara Sutra kindly sent me the Titus Basics Donut Cock Rings 3 Pack (available from Clonezone UK) to review thanks to The Pleasure Panel.

The Titus Silicone Series Blue Cock Rings are a great 3 pack of rings that can be used either on your penis or testicles. The packaging is a simple plastic, clam-style packaging that you would expect for an item in this price range, but don't let that make you think these rings are cheap toys.

These Titus Leather Wrist Restraints intrigued us as our other restraints are of the material type fastening with hook & loop, so these felt like a step up, but being marketed as having a softer leather edging to them we hoped they would also be comfortable.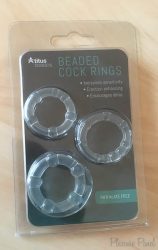 I received the Titus Basics Beaded Cock Rings 3 Pack from Cara Sutra via Clone Zone to test for The Pleasure Panel in exchange for an honest review. So thank you for the opportunity.

Along with a few other little sexy goodies, we recently received the Titus Jack M8 Clear Mouth Masturbator to review from Clonezone. This male masturbator along the same lines as the Fleshlight and Fleshjack products is presented in professional packaging, with the familiar torchlike canister over a soft feeling, shaped entrance sleeve. As this is a 'clear' masturbator from Titus' Jack M8 range, the malleable and soft material looks almost like crystal, being completely translucent for a cool visual effect and something different to the usual flesh tones.

There's an elasticated portion of the waist band on these pants, which is wide enough to be comfortable and allows some give in the waist fitting. This helps the pants look like a tailored fit no matter your actual waist size, given that you choose the correct size in the first place, of course. As my partner is a 34 waist we were sent the XL size, which I do feel is rather harsh. 34 inch waist on a man isn't exactly massive, so I'd hate to think what the small size is like. And if you're over a 36 inch waist then just forget these. It all seems a bit sizist, to be honest.

The Diamond Dong is versatile enough to add fun and excitement not only to female masturbation vaginally, but also anally (if you're brave enough and have a bucket 'o lube) - and this opens up (heh) the potential for men to enjoy this dildo too. You can share the excitement during foreplay and couples' sex, as long as he doesn't have any issues with realistic dildos and dongs of course. I'm quite lucky in that my bloke doesn't have any more issues with me using a realistic dildo than I do about him sliding into a pussy styled Fleshlight.