The Aneros brand is one of the most widely known manufactures of non-vibrating prostate massagers.  Being a new endeavour for me, I found the non-intimidating size, design, and cost to be inviting.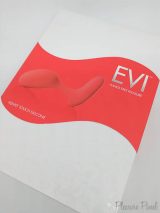 The Aneros Evi is a product type I've never seen before, a Kegel exerciser with clitoral stimulation, so when I was offered the opportunity to test this for the Pleasure Panel, I jumped at it.

First off I'll start this review by saying I was chosen to test and review the Aneros MGX Classic Prostate Massager by Cara Sutra as part of her Pleasure Panel. This review is completely my opinion of the product; it might vary for others.

I received the Aneros Sessions Water Based Lubricant to review alongside the Aneros Antibacterial Sex Toy and Body Wipes this month as part of the Pleasure Panel. Thank you!

Have you ever just wanted to fall asleep following a play session? Have you ever got comfortably positioned against the pillows ready to drift off and then suddenly remembered the stack of dildos you just used that need to be cleaned? I have. More times than I'd like to admit.

The Aneros Helix Syn Prostate Massager is a lot smaller than I had first imagined and I wondered if this would have any bearing on the pleasure I would (or would not receive) but more on that later. It is however beautifully presented.

By Stickywicket: Recently I reviewed the Aneros Progasm which packs a punch. It's an intense toy for an intense ride. Today I am writing about its smaller relation, the Aneros Helix Classic Prostate Massager

By stickywicket: The Aneros Progasm Classic Prostate Massager is not my first anal sex toy. As a bisexual man I have experimented a lot and my female partner loves experimenting anally with me too. I have tried the Aneros Helix before which is a little smaller and for a beginner you might want to start with the Helix.