Home
Authors
Posts by Married2Sexy

Cara Sutra's Pleasure Panel selected me to review the Oxballs Screwd Spiralled Penis Stroker.  So with a big thank you, let me get on with my review. The sleeve is housed in a see-through plastic snap close clear plastic container.  A thin paper insert provided product information and minimal instructions

Mrs. Sexy loves it when I suck her clitoris.  A request I am glad to fulfil.  This is why her excitement was high when the Cara Sutra's Pleasure Panel selected us to review the Satisfyer Pro Traveller Suction Sex Toy from Bondara.  A product line that delivers pleasure through suction and non-direct vibration.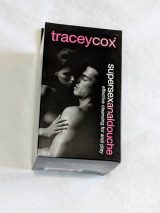 Mrs. Sexy and I recently talked about our curiosity to explore more with anal play, so when we were selected by Cara Sutra to review the Tracey Cox Supersex Anal Douche for this month's Pleasure Panel, it could not have come at a better time.

Opening the thin, low waste outer box, I slid out the black vacuum-molded plastic tray.  Opening this up displayed the Jil Hayden Silicone Dual Motor Rabbit Vibrator from Simply Pleasure along with the USB proprietary tipped charging cord.  Plugging it in, I prepared the toy for later.

Mrs. Sexy and I received the Linx Tickler Smoke Cock Ring Set from Prowler courtesy of Cara Sutra and her Pleasure Panel. 

Anal exploration is something I desire.  Whether it is on my wife or myself, a new pleasure zone is enticing.  For myself, I own two prostate massagers.  For us as a couple, we have the We-Vibe Dusk and now have the Rocks Off Petite Sensations 7 Speed Butt Plug.  Thank you, Cara Sutra, for providing us with this toy as part of the Pleasure Panel review group.

We can never understand when someone does not have a supply on hand.  Silicone lube is new for us though.  We started with and have yet to deviate from water-based products.  When we were asked to review the System JO Premium Jelly Silicone Based Personal Lubricant for this month's Pleasure Panel, we were more than thrilled.

The Tantus Vamp Super Soft Silicone Dildo is the first realistic dildo we have in our collection.  I pulled the trigger when there was a 50% off sale on Black Friday.  I have read wonderful reviews regarding this as a favorite product of many, so I had to give one a try.

I was provided the Nexus Ultra Si Dual Perineum & Prostate Massager by Cara Sutra's Pleasure Panel to review. This is not the first review I have posted for a prostate massager.  I gave the Aneros SGX a 9 out of 10.

At room temperature the cocoa butter/shea butter is a solid, but eventually spreads and gives a wonderful smell of chocolate, but lacks the flavor to lick off the body.  When Cara Sutra provided me with AMOREMEO Kissable Massage Gels in both Salted Caramel and Vanilla, I️ was game.

I once came across a documentary in which they attached cameras to various places on a couple and recorded them having sex.  The most fascinating viewpoints came from the camera attached to the penis and the one near the cervix pointing toward the vaginal canal.  The footage showed the thrusting of the penis and ultimately ejaculation.

Searching in the app store, brings up way too many choices.  Many of them are bad cheap money grabs, but every so often you find one that has some meat to it.  The iKamaSutra App is one of those that stand out.

The Eden Triple Pleasure Hands Free Silicone Vibrator by Eden Toys is a corded vibrating rabbit dildo with an added beaded anal tip. It is like a sandwich cookie, the clitoral/anal are your chocolate wafer with the dildo creamy middle.

The Aneros brand is one of the most widely known manufactures of non-vibrating prostate massagers.  Being a new endeavour for me, I found the non-intimidating size, design, and cost to be inviting.