Who is Cara Sutra?
Blogger
Cara is best known for her blog, right here at Cara Sutra. Having blogged her sexy and kinky escapades for several years, Cara has built up a loyal following of readers which steadily grows as more discover her unique and inimitable style. From diary style entries to philosophical ponderings and a smidge of opinionated rant, Cara's blog is definitely one to bookmark.
Cara regularly shines the spotlight on other fabulous names in the sex blogging and erotic author worlds, through her Sex Blogger and Erotic Author Spotlight Series.
Reviewer
Cara's blogging life began as a combination of sex journals and sex toy reviews. Her sex toy reviews are an important feature of CaraSutra.com to this day – with the latest, greatest and sometimes wackiest products to appear on the market all receiving the honest and unbiased CS treatment. Whether it's a vibrator, dildo, butt plug, flogger, ball gag or item of lingerie, Cara Sutra will have an opinion and won't hold back from letting her readers know exactly what she thinks.
Writer
As a well known name and formidable presence in the adult industry, Cara Sutra is regularly relied upon to provide informative, entertaining, educational and optimised articles for publication both at Cara Sutra (commissioned articles) and to be published elsewhere. With a writing portfolio which encompasses both web copywriting and features in print, Cara Sutra is the foremost adult industry copywriter with the experience and contacts to match.
Speaker
A writer who speaks? Surely not. Yet Cara Sutra was honoured to be amongst a veritable flock of talented sex speakers, authors, bloggers and other industry experts at Eroticon 2014. With talks covering important matters such as Professional Copywriting in the Adult Industry (see the related course here) and the Management and Monetisation of Masturbation (sex toy reviews), Cara enjoyed sharing her experience and top tips at the well attended event in Bristol.
Mistress
Her veins a delicate flowing balance of blood, caffeine and kink, Cara Sutra has a strong FemDom influence which no-one dare deny. A well known presence in the BDSM and Fetish scene and owner of her own Mistress website, Cara Sutra enjoys living the 24/7 lifestyle as Domme to her live-in slave as well as many submissives scattered across the UK and further afield. Cara regularly writes BDSM and fetish advice guides and kink interest articles, through which Cara hopes to enlighten those wishing to know more.
Award Winner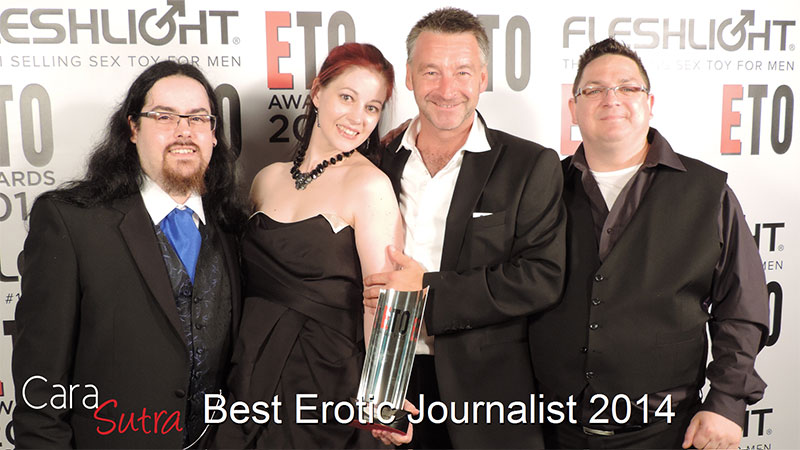 Cara Sutra is the delighted recipient of a number of awards, including Best UK Sex Blog in the Xcite Books 2012 awards and Best Erotic Journalist in the ETO Awards 2013 and 2014. Cara was also a finalist in the Xcite Books Awards 2013 for Best UK Sex Blog and Best Sexpert. Along with these esteemed titles, Cara Sutra regularly features in top World and UK sex bloggers lists such as those at Kinkly.com, XXXSexGuides.com, Between my Sheets, and Glamour Magazine.
Post Script from Cara
Hey, hey! I'm Cara, welcome to my site. Nice to meet you, please stick around!
Things you need to know? I'm an opinionated and ranty bitch, but incredibly hard-working and conscientious. I have rather worrying addictions to P!nk, Twitter, coffee and shoes, and was recently described as "always trying to get women out of their clothes; whether for the clothes, or for the women."
I have a very patient and long suffering partner, and he is my geeky saviour when it comes to all things code and tech. Without him, my blog would probably consist of biro scrawls on the side of a hut somewhere in Lincoln.